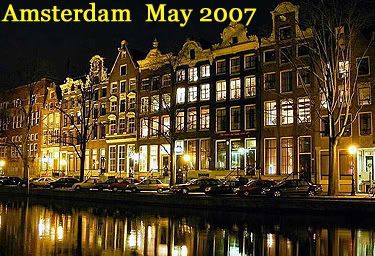 Marti & I spent a five-day weekend in the 'Dam from May 17-21. It was a chill hang, during which we took in a museum exhibition (& related podwalk), attended the symphony at the Concertgebouw, discovered a few new restaurants, shopped & saw one of our Amsterdam-based pals.

In the late afternoon of Thursday, May 17 we boarded the high-speed Thalys train bound for Amsterdam. It was a relaxing ride to Sin City. I had upgraded us to First Class, which meant snacks, dinner & a power connection for my laptop. Using a newly-acquired splitter to run both my AKGs & a pair of Sony headphones, we caught up on several episodes of All My Children while hurtling through the French, Belgian & Netherlands countrysides.

Around 8:30 p.m. my bride & I checked into the Hotel Rokin, just south of Dam Square. We marveled at the fact that canal-encircled Amsterdam is currently excavating for a new subway system! That will entail digging more than a few underwater tunnels, I imagine. We strolled over to the Greenhouse Centrum, where we sat outside while I twisted up Spliff Number 1 of the tour. Afterward we enjoyed late dinner: amazing steamed oysters & huge bowls of Chinese soup at a place nearby called Golden Chopsticks.
On Friday, after a leisurely morning, Marti & I embarked on a combined Max Beckmann podwalk/shopping excursion. The Beckmann In Amsterdam show at the Van Gogh museum was to be one of the highlights of this tour.

Beckmann & his wife "Quappi" had lived in the 'Dam during the years that the Nazis were in power. Beckmann had fled Germany not because he was a Jew (he wasn't), but because the Third Reich considered his work "degenerate." I had downloaded the Van Gogh's podwalk segments to my Nano, so Marti & I had an audio guide as we visited a few of the sites related to Beckmann's Amsterdam exile: the Grand Hotel Krasnapolsky & its fabulous Winter Garden restaurant; the Van Lier Gallery & Beckmann's residence, which serendipitously was located a few doors down from our hotel.

We shopped in the Kalverstraat, I burned one down at the Dampkring (Brad Pitt's & my favorite coffeeshop), had super cooked-to-order stir fry at Wok To Walk in the Leidsestraat. We crashed for a while back at the Rokin, then grabbed Mexican dinner at the Margarita resto around the corner.

After the meal Marti returned to the hotel while I cabbed to the Toomler Comedy-Jazz Club, where I joined my singer-songwriter friend John Lester & a pal of his for a late-night set by Candy Dulfer & Friends. Candy, a hard-blowin' sax player known for her work with Prince, was sitting in with a trio led by Bas Van Lier, a great local pianist. John & I had seen him one night at the Alto jamming with Candy's dad, the legendary Dutch sax man Hans Dulfer. John subsequently used him on one of his own album projects. (I didn't think to ask Van Lier if he was related to Beckmann's gallery-owner friend.) It was a fun night. Candy blasted away in that robust King Curtis-Lenny Pickett soul sax style that I love so much. She capped the set with a goofy, loping, audience-participating rendition of flavor-of-the-month Amy Winehouse's "Rehab." God help us.

We enjoyed another in-room chillout on Saturday morning. Marti read. I wifi'd. Then Marti headed to Magna Plaza in Dam Square for a bit of shopping while I hung out in a nearby coffeeshop. We had a cheap but tasty lunch in a herring joint on one of the side streets, then picked up again on the Beckmann tour.

We stopped at the Muntplein & Hotel de l'Europe, where we downed cocktails in the luxe Freddy's Bar, a popular haunt of Herr Beckmann.

That evening Marti & I cabbed down to the wonderfully ornate Concertgebouw to see Tan Dun conduct the Dutch premier of his marvelous Paper Concerto. In an homage to Tan Dun's Chinese ancestors, inventors of the world's first fine paper, the Paper Concerto for Paper Percussion and Orchestra (2003) exploits everyday materials in a completely reimagined creative manner: huge rolls of paper (& other paper constructions) are employed as instruments that are blown, ripped & beaten to create new sounds. We had heard Tan Dun's work performed previously by the Kronos Quartet. This piece, however, was an eye-and-ear-opening stunner!

Sunday was an action-packed day & evening. We went down to the Van Gogh Museum to see the Beckmann exhibition, lingering on the Museumplein for a while beforehand to observe the Socialists Rally. I don't know what was up their noses on this particular afternoon, but they all seemed to be having a lovely time ranting in the sunshine.

The Beckmann show was excellent. Focusing, of course, on his prolific output during the Amsterdam years, the work depicted Beckmann's interests in the world of cabaret, Dutch landscape & life in this remarkable city. Also on display were entries from his diary, letters, photographs & an impression of his studio. Marti & I appreciated having seen a few of the Beckmann sites during the previous couple of days; it helped put his paintings in perspective. After visiting the exhibition we continued on the podwalk.

In the Rembrandtplein we took a coffee break at the Smokey, perused the Rembrandt statue & three-dimensional representation of his Nightwatch masterpiece, then had lunch on the balcony of one of the Beckmann hangouts: the famous Cafe Kroon. We dug the fact that the podwalk was taking us to previously unknown (to us) areas of the 'Dam.

Another of these was the dazzling Art Deco Tuschinski Theater, a favorite of Max & Quappi. We checked out the over-the-top interior, then decided to stay to see a film called The Namesake, a typical immigrant assimilation tale about an American-born Indian guy who bucks his family's resistance to letting go of their traditional lifestyle. Quite watchable.

Later that evening Marti & I ventured out again to enjoy dinner at an outside table at The Majestic, opposite the Krasnapolsky in Dam Square. Afterward we glimpsed a film crew setting up for a nighttime shoot near our hotel. Probably a documentary about the history of subway construction.

We packed & checked out of the Rokin after breakfast on Monday. I installed myself nearby at an outdoor table at the Old Church coffeeshop, one of my faves. Marti went for a walk on her own.

Later I found a lovely necklace -- a 26th wedding anniversary gift for Marti -- at a shop called Daskas. This boutique should be on the Mr. Phil Amsterdam podwalk. On several occasions I've found beautiful jewelry here created by a contemporary Netherlands designer named Frans Van Berkel: When designing jewelry, I start out with simple, often geometrical, elements. Combining these elements into the shape of a necklace brings about a three dimensional rhythmic sequence . . . Much of the jewelry we make consists of heavy silver-plated brass combined with braided steel wire, with nylon coating and remanium steel wire. The rings and parts of the bracelets are made from 925/- silver. Marti has a small collection of Van Berkel's creations, which are fun to mix & match.

The bride & I rendezvoused at the Rokerij 2, another of my top coffeeshops, then went to see the Peter Stuyvesant statue at the site of the West India Trading Company (both of us have read The Island At The Center Of The World, Russell Shorto's compelling history of 17th-Century Dutch Manhattan). Later we took a walk along the canals, returned to Golden Chopsticks for a lunch of duck, pork noodle soup & those terrific steamed oysters, enjoyed one last Greenhouse Centrum visit, then hailed a taxi to pick up our bags at the hotel & take us to the train home.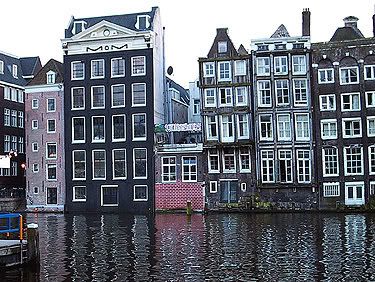 Amsterdam is such a cool, liberal-minded city to hang in. Marti has a two-day business trip to the 'Dam scheduled for next week. Needless to say, I'm going along for the ride.