Marti & I arrived in Athens Friday afternoon May 12, 2006, totally wiped out from Bon Voyage partying until almost takeoff with pals from the States who were visiting us in Paris. We took a long afternoon hotel room siesta at the Esperia Palace. I hated the hotel. The room they gave us was dingy & shopworn. I had taken great pains to find us appropriately deluxe accommodations at our other destinations (this was, after all, a 25th Wedding Anniversary trip). We were only staying one night here at the outset, but planned be back for five nights at the end of our vacation. This room -- or this hotel -- would have to go! My bride & I embarked upon a late walk down to Plaka searching for our favorite Greek vegetarian restaurant, which is never open. We wound up instead at a meat resto called Stamatopoulo Palia Plakiotiki Taverna, sat outside in the lovely garden. There was a huge birthday or name day party, some of whose members got up & played & sang with "Crosby Stills & Taki," the regular entertainers.
The music got slow & ballady late in the evening, beautiful old school pop songs that the remaining diehards sang along with & danced to . . . sweet!
On Saturday we caught the noon hydrofoil to Spetses, the lovely island where we'd be spending the next week.
Our digs on Spetses were the bomb. This was more like it. For the next seven days we'd be installed in a beautifully appointed three bedroom house with extraordinary views of the Palio Limani (Old Port).
Marti & I went to Tarsanas, our favorite resto in the Palio Limani, for lunch on our first afternoon. From our table on the pier we could see the villa where we were staying across the little harbor. (It's above the big blue propeller, just to the right of the orange umbrella.) Grilled fresh fish, sparkling white wine & dazzling sunlight. This would be just fine.
We enjoyed a very chill Sunday, went to the tiny Greek church of Saint Nicholas, then the cyber cafe to check e-mail. Marti & I had a greasy tourist lunch (the first & last on this trip), crashed & hung out at the house reading in the evening. I finished the Robert Mitchum bio, a terrific read. The day before we'd had the island grocery store deliver bottled water & some munchie items so we could hang at home Sunday night. We ate olives, cheese & ham with ouzo rocks while the boat people & Eurotrash disco'd late into the night in the bars across the Palio Limani.
On Monday we had strawberries & thick Greek yogurt for brekkie. I burned one down on one of our terraces, then took a bit of sun on another while listening to The Riley Martin Show (downloaded from Sirius last week to my 'Pod). "O-Qua Tangin Wann," baby! Riley is completely fucking wack, he was abducted by aliens in the 1950s, so his descriptions are totally Fifties style: classic flying saucers, bulb-headed creatures. He's on Howard Stern's satellite channel & is really hilarious. Marti & I headed into town, stopping enroute at Kapeloyiannis, the first kafenion (coffee shop) for frappes (ice coffees with milk & sugar) overlooking the harbor. We shopped a bit & I adopted an appropriately Eurotrash summer look: Emporio Armani tee & AlpineStars cap.
Marti & I had a much better lunch than the day before, this time at a place called O Roussos -- stuffed tomatoes & fresh fish Spetses-style -- at the same price point as the greaseball restaurant we'd gone to on Sunday: ouzos, bottled water, 2 first courses, 2 mains for a total of 25 euros in a nice setting by the water. A smiling Albert Finney lookalike (Greek version) served us & complemented Marti on her Greek (she nails those five syllable tongue twisters with the greatest of ease).
It was a Monday & for some reason the schoolkids had the day off. We kept running into them everywhere. It must have been Kids Ride Free day for the island's hansom cabs. Elsewhere folks were spiffing up shops for the coming season. Marti & I hit the 1800 Cafe for a little terminal time.
We chilled back at the house & went out for late dinner at a dockside resto nearby called Mourayo. This proved to be the most refined cuisine we'd had here in terms of preparation & presentation: horta (boiled greens with olive oil & lemon), roasted red peppers with feta, seafood spaghetti & swordfish steak . . . yum! On the five-minute stroll back to the house we peeked into a boat-building shop; vessel construction is still a major activity in this little port.
Tuesday morning Marti & I slept late (the sound of the guys working in the dry dock boatyard across the road didn't even waken us).
Beverley the cleaning woman came at 11 am to tidy up the house & do our laundry. My bride & I stopped again at Kapeloyiannis for frappes, then continued into the Dapia (the main port & commercial center of town, a 20-min walk along the water). Our first destination was the cyber cafe. I had decided to post contemporaneous reports to my website using cellphone pics & Internet photos that I edited online, plus quick descriptions from the notes I was keeping.
We returned to the Palio Limani for lunch at Exedra, an outdoor taverna. Actually, everywhere we dined was outdoors, it was in the high 70s & sunny all the time here. Every day I looked out at the morning sun & in my greyest Parisian voice sarcastically asked Marti, "How can these people live like this!"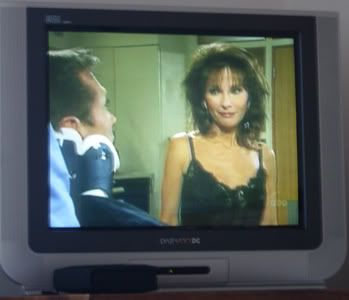 Back at the ranch I surprised Marti with DVDs of All My Children that our pal David sends us from the States each week. We watched a few episodes (we're daytime drama pervs, we know, we know) on the big TV in the living room. For dinner I made a huge Greek salad with tomatoes, cukes, olives, feta & hard-boiled eggs.
On Wednesday we were slugs. We enjoyed a long hang at the house. In the morning I shot 30-sec movies of the harbor off the balcony.
I turned on the satellite TV & caught some hot morning porn action featuring an Asian chick & a guy who was wearing weird cool alien sunglasses & boots for a costume. I video'd some of this as rescans off the monitor (for further research). We watched more All My Children, reran the Greek salad lefties with added tomatoes & ham for lunch, hung out some more. This was definitely the chill-out segment of our second honeymoon. Marti read in her book, The Magus, which is set on the island in the 1950s. I burned down fatties & surfed the satellite in between trips to the various balconies & terrasses to check on the harbor action. It's great, commercial & pleasure boats in & out all day.
Late in the evening we returned to our favorite taverna overlooking the water in the Palio Limani -- Tarsanas -- for succulent astakomakaronada (lobster & spaghetti). What a concept: two of my favorite food groups in one dish!
Next morning I whipped up the mother of all Greek omelets with three kinds of cheese (feta, graviera & manouri) plus two varieties of olives (Volos & Kalamata) We walked into town again after first chatting for a few minutes with the old fella who works at the boatyard across the road from our digs. He asked me where I learned to speak Greek & I gave him my standard reply: "from my yiayia" (my grandmother). This always elicits a big smile of approval from the natives. The guy already knew we lived in France & he praised the ports he'd visited there: Dieppe, Rouen, La Rochelle. He said they all had excellent boatyards. He told Marti & me that the boatbuilders in the Palio Limani have to chill during the high season because the noise offends the tourists. Personally, we're loving the fact that our part of the island has this busy boat construction scene. As city folk, the noise makes us feel right at home! On the way into town we saw a little fat kid being buried alive on the beach. Nice.
That afternoon Marti & I had a late lunch in town, did a bit of grocery shopping & checked our e-mail at the 1800 Cafe. After we got back to the house Marti ventured out again on a solitary late afternoon walk. She checked out the lighthouse & the view from down the road. We stayed in that evening & I tried my hand at seafood spaghetti.
Friday we got off to a slow start (it's so easy to pick up the laid back vibe of this little island paradise), but then Marti & I packed a lot into the rest of our last full day here. We had lunch in the Dapia overlooking the main port, wandered around the little backstreets of town & encountered an African grey parrot who says "Kalimera" (Good Day) in Greek (!) Then we headed for the water.
We hired a water taxi to take us all around the island for a red snapper's view of all the villas, beaches, forests. Vassilis, our captain, also took us over to Spetsopoula, the Stavros Niarchos family's private island, just south of Spetses. It has its own exclusive port, fishing boats to supply fresh catch to the 65 folks who live there this time of year, a little village, the main villa & a couple of security islands to keep nosy tourists & paparazzi away. Our voyage took about an hour and a half. When we got back on shore, it was time for another ouzo break.
Captain Vassilis had hipped us to a rare annual performance scheduled for the ancient amphitheater that evening, groups of schoolgirls wearing authentic costumes doing traditional dances. So, after our ouzo break by the harbor, we got a cab to take us up the mountain to the theater (overlooking the former British-style private school from The Magus) & wait until after the dancing to take us back home to the old port -- all for a whopping 15 euros!
Marti & I had a great time joining the parents who applauded their traditionally-clad dancing offspring. I got a kick out of the little brothers & sisters who were putting on rival dance routines on the top steps of the amphitheater.
That evening we returned to Tarsanas for one last dinner on Spetses: lightly fried calamari, a lettuce & spinach salad with manouri cheese, a big grilled sea bream with a cold boiled veggie platter. Excellent. The wine was Thalasitis, from the island of Santorini. My beautiful bride & I wound up at a bar called Remezzo, where "Peter, Paul & Taki" were singing & playing Greek pop tunes on bouzouki, acoustic guitar & electric bass. Nice. We had Metaxas for nightcaps. We'd be leaving the island the next day. But we'd be back.
And our 25th Wedding Anniversay celebration was now just a few days away.



On Saturday morning Marti & I finished packing, took a land taxi to the water taxi, which brought us to Kostas on the mainland, then hired a Mercedes taxi to bring us to the seaside town of Nafplion. We checked into our hotel, the Nafsimedon, a lovely Belle Epoque mansion. At my request -- I had given them a heads-up that we would be celebrating our 25th wedding anniversary here -- we were given their most beautiful room & the flowers I ordered for Marti were delivered while we were at lunch.
We sat under shady trees for a lunch of slowwwwwwwwwww "fast food" at Mary's Corner, in the park across from the hotel.
We'd be here for the next four days, culminating with our 25th anniversary dinner Tuesday night. Marti & I had visited Nafplion a couple of times before, so it was fun to leisurely explore the attractive little harbor town without a tourism agenda.
On Saturday night we had dinner at Arapakos, our favorite seafood restaurant on the quay. In 2006 Greece was the host for the annual Eurovision Song Contest & that evening was the finale, so there were big screens in all the bars & restaurants, even outdoors. For the most part, Eurovision contestants all perform syrupy pop or inane dance tunes, but this year Lordi, a monster metal band from Finland, was the winner!
While I was at the cyber cafe on Sunday, Marti caught up on her picture-taking & shopping.
We returned to Arapakos for late lunch (Greek salad, tyropita & shrimp spaghetti). I checked out the women's fashion while Marti was attacked by a giant balloon. Marti & I window shopped afterward, then walked back to the hotel for a siesta
On the way back to the hotel we stopped at a taxi rank & engaged a guy named Panayotis to drive us to Mycenae on Monday & to Athens on Wednesday. We ventured out again in the late evening for midnight supper at Noufara in Syntagma Square. Marti ordered dolmades (stuffed cabbage); I got stifado (beef stew). We strolled down to the harborside afterward for coffees at Pantheon.
Panayotis picked us up in his Mercedes after breakfast on Monday & drove us to the ancient ruins of Agamemnon's palace at Mycenae, Marti's favorite place in Greece.
There's a rider in Marti's contract that stipulates a requisite visit to this historic hilltop every time we come Greece. The only time we skipped it was in November 2004, when we spent our entire five-day visit in Athens. It's really a breathtaking setting & although we've been there before, now we got to visit the fine new museum on the site.
We went to lunch back in Nafplion at Taverna Fanaria in the old quarter: seasonal salad, roasted red peppers, stuffed tomato & pepper, briam (mixed baked vegetables). Deelish. My bride & I returned to the hotel for a bit of R&R. Next up was the 7:30 screening of The DaVinci Code -- after a nap, of course!
Tuesday was our 25th wedding anniversary! After breakfast in the front garden of the Nafsimedon, Marti & I went shopping & walking in downtown Nafplion. I bought a Gant shirt, my bride found a new belt & gifts for friends.
That evening we went up the hill to the Nafplia Palace Hotel, near the towering Palamidi Castle, for a fabulous romantic dinner overlooking the sea at a swanky restaurant called Amymoni. To commemorate the occasion I gave Marti the diamond ring that our friends Jan & Greg had delivered a couple of weeks earlier & that I'd been carrying in jeans pockets ever since.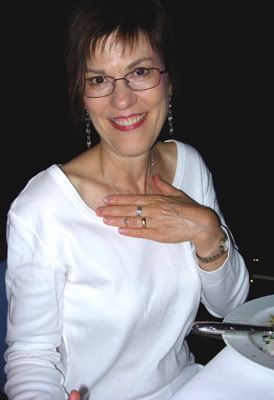 My nifi (bride) was suitably bowled over & said she had a special present waiting for me when we return to Paris!
That was still a while off. First, we were bound for Athens in the morning.


Panayotis, our Nafplion-based cab driver, brought us to Athens on Wednesday. The city was in the midst of an unseasonal heat wave & to compound matters, following the beautiful digs Marti & I had enjoyed on Spetses & in Nafplion, we were again relegated to Room-From-Hell #407 at the Esperia Palace. After a lot of hassle -- Marti brought them a laundry list of things wrong with the room -- we obtained an upgrade. We crashed for a while in the early evening, then walked down to Plaka for dinner at Diogenes.
On Thursday we hired Loucis the Taxi Driver to take us to Delphi. Enroute we stopped at a lovely old monastery called Ossios Loukas.This was Loucis' namesake, Saint Luke.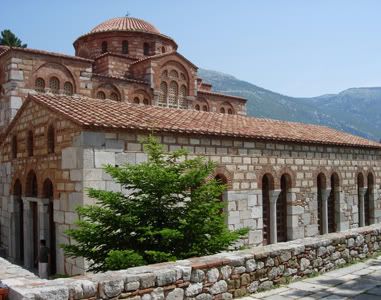 Loucis was delighted that we wanted to visit the beautiful Byzantine religious enclave. Most of his fares drive right by the turnoff & go straight to Delphi. The monastery was located in a serene mountain setting surrounded by almond & pistachio groves. The art that covered the every inch of the two churches within the complex was breathtakingly beautiful: the 10th century fresco (at right) was originally part of the interior of the first church, but had been covered until its discovery in 1965. It is now seen as part of an interior wall of the later church. What a peaceful place for a traveler to catch his or breath, light a candle & simply chill out.
Our often-postponed trip to Delphi, site of the Oracle of Apollo, had been long in the planning. We weren't disappointed!!
Marti kept calling it the "Navel of the World." She really believes in all those old myths & let's face it, is in fact a modern-day goddess. I'm a bit more skeptical & irreverent. When the guard wouldn't let me pose for a photo with one of the statues in the museum, I grabbed a shot with a bunch of reproduction heads in the gift shop. I'm not proud.
After we saw the Delphi ruins Loucis drove us into town, where we enjoyed lunch with a fabulous view at the Epicuros Taverna. I had excellent rabbit & shallot stifado (stew); Marti ordered pork with celery, a favorite. Baklava "cigars" for dessert. Vistas like the ones from Epicuros make you feel like the whole world & entire millennia lie before you.
In the evening my bride & I hooked up with our Athens pal Alex, who took us to hear singer-songwriter Simon Bloom at the Small Music Theaterin the Koukaki district of the city. It was hot & crowded in the venue & Simon wasn't all that compelling, so after a while we went outside to schmooze with Alex & his musician friends.
Alex took us to Telly's, a late-night dive on the border of the hip Psirri 'hood, where we dove into plates piled high with grilled pork chops. Just what we needed! After dinner Alex introduced us to the owner, Telly himself. Sweet guy. Telly wanted to give us more pork chops. Just what we didn't need!
Next morning Marti & I went to see Vassilis, a jeweler whom Alex had graciously arranged to size Marti's new ring while we waited. What a great hookup. This fellow's shop was in a stoa (arcade) just five minutes from the hotel. In the same stoa we found a baby gift for Maximilian, our friends Maria & Charles' new baby, who had been born the day before in NYC. Next we took in the wonderful Botero exhibition at the National Gallery, the only art show I've ever seen where the observers look at the canvases & smile broadly. Well, they smile until they encounter his newest work, a remarkable & shocking series of pictures on the subject of prisoner abuse at Iraq's Abu Ghraib prison. Botero has said he became so upset at the atrocities that he felt compelled to produce paintings that would graphically depict them. Very hard-hitting stuff. It took us a while to recover from seeing these; Marti accurately recognized the influence of Goya on this project.
We shopped a while afterward, then hit Kioupi, our favorite blue-collar lunch restaurant in the oh-so-chic Kolonaki quarter. Marti & I had fried smelts, horta with chick peas, meatballs, orzo & veggies. Killer! After lunch we hung out for a long time at Peros, a trendy Kolonaki sidewalk cafe where we sipped frappes & watched the beautiful people hanging out & strolling by.
In the evening we went down to Plaka, strolled by lots of inviting tavernas, but opted to go to Eden, a Greek vegetarian restaurant, of all things. We used to like this place, but the cooking has become a lot less imaginative & much more heavy-handed here than it was ten years ago. Gimme my meat, already! We headed back to the hotel, stopping for nightcaps at a favorite cafe of ours across from Saint Irini church.
Saturday afternoon featured more culture & shopping. Shunning the greasefest breakfast at the hotel, Marti & I kicked off the morning with lattes from our nearby Starbucks, complete with strolling musicians. Then we took the Metro to see the whimsical Botero sculptures at the Megaron Musikoconcert hall. Which was surrounded by those crazy painted cows that keep popping up everywhere.
The Botero pieces were a delight to see. They reminded us of his marvelous 1992 installation along the Champs-Elysées. Later that afternoon Marti found another one in the lobby of a bank. The bank must have been a sponsor of the exhibition.
After the Megaron, we caught the "Caravaggio & The 17th Century" show at the Museum of Cycladic Arts in Kolonaki. On exhibit were a couple of Caravaggios we hadn't seen before. Beautiful. Afterward we enjoyed another Kioupi lunch & Peros frappe hang. We hit a few shops, finding gifts for ourselves & others. It was time to wrap up the shopping. Only a couple more days remained on this special 25th Anniversary trip!
On Saturday evening Marti & I took a cab to the Pangrati district of town, had dinner at an outdoor Italian resto, then went to our favorite live music venue in Athens, the Cafe Alavastro. The club is very laid back & the world music programming is always interesting.
We were treated to a long night of music by "laika" chanteuse Lizeta Kalimeri & several of her friends who did guest turns. Laika music is a sort of popular urban folk successor to the rough, gritty rebetika style of Greek blues, for lack of a better description. Lizeta has a great voice & though we certainly didn't get all the lyrics, you could tell from the emotion & structure of the compositions that these were great songs. The audience knew many of them & sang along. Wonderful. Between sets Lizeta wrote down the titles to her CDs for us so that we'd be able to hunt them down. We headed back to the hotel after the proceedings ended, around 4 a.m. This was our kinda night on the town!
Marti & I went to lunch in the park on Sunday with our friends Alice, Lena & Alex. This was a fun, relaxing way to spend our last full afternoon in Athens. Lena is a cute little thing who eats everything you give her. What a kid! We'll see all of them again next month when they come for a stay in Paris. Later we returned to the hotel to pack for the next day's flight home. In the evening we went to Plaka to Stamatopoulo, our new favorite garden taverna, where we had gone the night we arrived 17 days earlier. "Crosby, Stills & Taki" were in full swing, so we asked for a table near the music.
We ordered a bunch of starters & a beautifully-prepared grilled tsipoura (porgy) & washed it all down with a bottle of Amethystos White. I could have stayed there all night listening to those guys sing great old Greek pop songs. In fact, we were among the last to leave that evening.
On Monday morning my bride & I went last-minute shopping (a tube to carry home posters, CDs by Lizeta Kalimeri). We downed one last lunch at Kioupi in Kolonaki. We wedged in a bit more shopping (a 1950s-style polka dot top for Marti), then basked in a final chill-out over ice cream frappes at Peros. On our walk back to the hotel I spied an awesome bakery, but we had reached maximum packing load. Next time. There was a taxi drivers strike that day, but Alex was kind enough to pick us up & our considerable luggage & take us to the airport in the big blue family van.
It was the end of an all-time dream vacation!